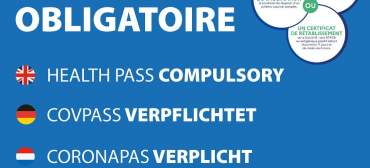 HEALTH PASS
From the 21st of july we have to ask you the HEALTH PASS for the check in
From Wednesday July 21, it will be COMPULSORY for all adults arriving at the campsite to present the HEALTH PASS.This health pass will only be requested upon arrival and will be valid for the duration of your stay.
Minors are not affected by the health pass until August 31.
As a reminder, the HEALTH PASS is:
*A complete vaccination schedule:
-7 days after the 2nd injection for double injection vaccines
-4 weeks after injection for vaccines with a single injection
-7 days after the injection for vaccines in people who have had a history of Covid (1 single injection).
*Proof of a negative test of less than 48 hours:
-PCR or Antigenic Tests (self-tests are not valid).
-The result of a positive RT-PCR or antigen test attesting to recovery from Covid-19, dating at least 11 days and less than 6 months.

To ensure we all enjoy this summer holiday together, please be careful and continue to carry out preventative measures.
Don't hesitate if you need more informations,
See you soon !